Thanks to the brains behind Arduiniana, Mikal Hart, Poolbot has moved to the brand-new GPS library set, TinyGPS++.  This saved enormous time in developing custom code to process and check the validity of NMEA codes.  Here's a screenshot of Poolbot's latest drydock test program, using TinyGPS++ grabbing data indoors (hence the improbable rate of movement):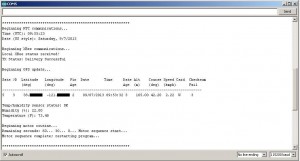 (Mikal Hart is also apparently a RockBLOCK fan and thanks to his efforts, yes, there's a library for that)
Once some more stringent validity checks are in-place, Poolbot will move onto the next stage… as detailed in the next post.