After some weeks of hefty programming (and after being interrupted by having to return to a regular non-robot-related work schedule), a few successes can be noted:
Poolbot's control language now includes status reporting
XBee signal strength is back to normal, after re-soldering the antenna to the

right

contacts this time
A Python remote control is now working and can be used to actually drive the robot
A motor calibration jig has been built to determine settings vs. actual speeds on each motor
Why calibrate the motors?  Because Poolbot relies on libraries that set motor speed to a value between 0 and 255 (and Poolbot's language sets that to a percentage), and "127" on the left motor may not give the same speed as "127" on any other motor.  Waxy buildup and motor variations make the speeds hard to predict.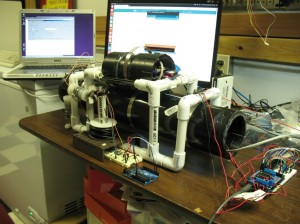 (the port size float has been removed above, to accommodate the calibration sensor)
The calibration jig simply combines a stopwatch function and a button with an interrupt-based counter.  The interrupt is tripped by a somewhat expensive Omron reflective sensor.  When the propeller passes in front of the sensor (with a white backing taped in-place), it trips and interrupt and adds to the counter.  If the clock is running, RPM values are automatically calculated and displayed.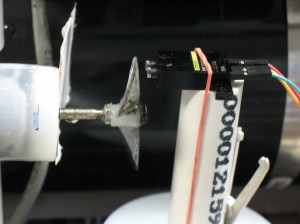 And the controller?  It reports GPS location, signal strength (in dB), current Poolbot mode, and last command sent.  Buttons set whether to enable a particular motor and the direction to use.  Four sliders set the actual speed of each motor, from 0 to 100.    All of this is handled through the XBee link, in real time.  Put the 'bot in the water, and you can drive it "digitally" until the signal strength goes to zero.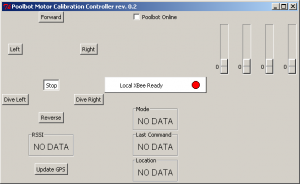 There are actually two controllers, as having sliders for the drive motors is pointless in the water (if the 'bot makes it below the surface, GPS and XBee signals will be lost, which will translate into a lost robot).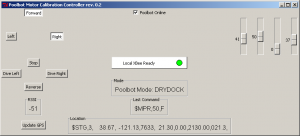 All told, the project now features ~1000 lines of C code on Poolbot itself, plus ~300 in the Python remote.  It's more than likely these can be reduced by careful use of functions, but that can wait.
Next steps: water test,  move to a larger central tube, add new ballast controls, and upgrade the XBees to a longer range using a real external antenna…